The State of California has been a national leader in energy policy, setting innovative mandates for renewable energy, demand-size management, and greenhouse gas (GHG) emissions regulation. The State depends upon energy to meet the everyday needs of consumers and power economic growth. To ensure that the State's energy is safe, affordable, reliable, and clean, California has established three governing institutions: the California Energy Commission, the California Public Utilities Commission, and the California Independent System Operator.
California Energy Commission
Established in 1974, the California Energy Commission (CEC) is committed to reducing energy costs and environmental impacts of energy use − such as greenhouse gas (GHG) emissions − while ensuring a safe, resilient, and reliable supply of energy. The Energy Commission serves as the state's primary policy and planning agency and has seven core responsibilities that guide the agency as it sets state energy policy; including energy forecasting, promoting energy efficiency, investing in energy innovation, developing renewable energy sources, advancing alternate renewable technologies, certifying thermal power plants, and directing state response to energy emergencies.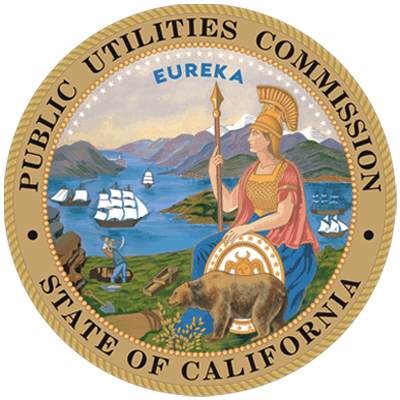 California Public Utilities Commission
The California Public Utilities Commission (CPUC) was established and serves as California's primary regulatory authority over public utilities including natural gas, electricity, telecommunication, and water companies, as well as railroads and marine transportation. The CPUC establishes policies and rules for electricity and natural gas rates and services provided by private utilities in California. These include Pacific Gas and Electric (PG&E), San Diego Gas and Electric (SDG&E), and Southern California Edison (SCE) and the Southern California Gas Company (SoCalGas). The CPUC's regulations and policies are designed to protect consumers and ensure that private utility services and infrastructure are safe, reliable, and affordable. The CPUC also creates and implement policies aimed at deploying clean energy resources with a commitment to environmental enhancement and a healthy California economy.

California Independent System Operator
The California Independent System Operator (California ISO, or CAISO) was established in 1996 by Assembly Bill 1890 and is an independent, non-profit public benefit corporation responsible for operating the high-voltage, long-distance electric transmission lines that make up 80 percent of California's and a small part of Nevada's electricity system. CAISO is also responsible for facilitating California's multi-billion dollar wholesale electric power markets. CAISO is regulated by the Federal Energy Regulatory Commission (FERC), an independent agency that regulates the interstate transmission of electricity, natural gas, and petroleum across the United States. CAISO also ensures that electricity flows as intended within federal operational standards, keeps supply in balance with demand, and plans for any needed expansion or upgrade of the electric transmission system.